Monthly Accounting Routine
Effortlessly stay on top of your accounting to-dos from month to month with this mini-system (taught in Asana)
If you like making money,
you have to keep track of it.
Instead, most small business owners avoid their financials at all costs.
They procrastinate, postpone, get busy with running their business, and forget, month after month, until tax time rolls around, and they find themselves playing catch-up on an entire year's worth of accounting to-dos:
hunting for receipts
recording expenses and income
discovering unpaid invoices (How did I miss that?)
realizing you owed sales tax 3 quarters ago
When all the numbers are in and
added up, they're shocked...
... at how much in taxes they owe. They're even more astounded that they didn't make as much money as they thought they were making. "Maybe I shouldn't have invested in that one program?"
At which point they promise themselves - "Next year, I'll get my stuff together" - only to find themselves in the exact same position 12 months later.
Here's what happens when you stay on top of
your accounting to-dos from month to month
instead of waiting to do everything at the end of the year...
01. You always know how profitable you are...
so you can make smarter financial decisions and investments without putting your business at risk.

02. You aren't stressfully scrambling at tax time...
spending days looking for receipts or discovering you still have unpaid invoices from the beginning of the year.
03. Your taxes owed don't surprise you or bankrupt your biz...
because you've been keeping track and putting cash away to cover what's owed.
04. You can say goodbye to that nauseating dreadful feeling in the pit of your stomach...
every time you think about your finances because it feels so satisfying to finally be on top of your money.
And the best reason to stay on top of your accounting is:
05. You can make more money!
That's right.
Staying on top of your accounting stuff from month to month can help
you make more money all year long. Here's how:
With an up-to-date view of your business's financial health, you can make better financial decisions like:
minimizing sense-less investments and overspending
doubling down on selling your most profitable digital products and services
preparing and saving for taxes owed, so you aren't scrambling to find the funds at the end of the year
keeping future-securing money flowing to your retirement account
Staying on top of your money stuff is easier than you think...
Self-made promises and willpower don't work. That's why you need...
The Monthly Accounting Routine
the easiest, systematic way to stay on top of your accounting to-dos from month to month so that you can make better financial decisions all year long.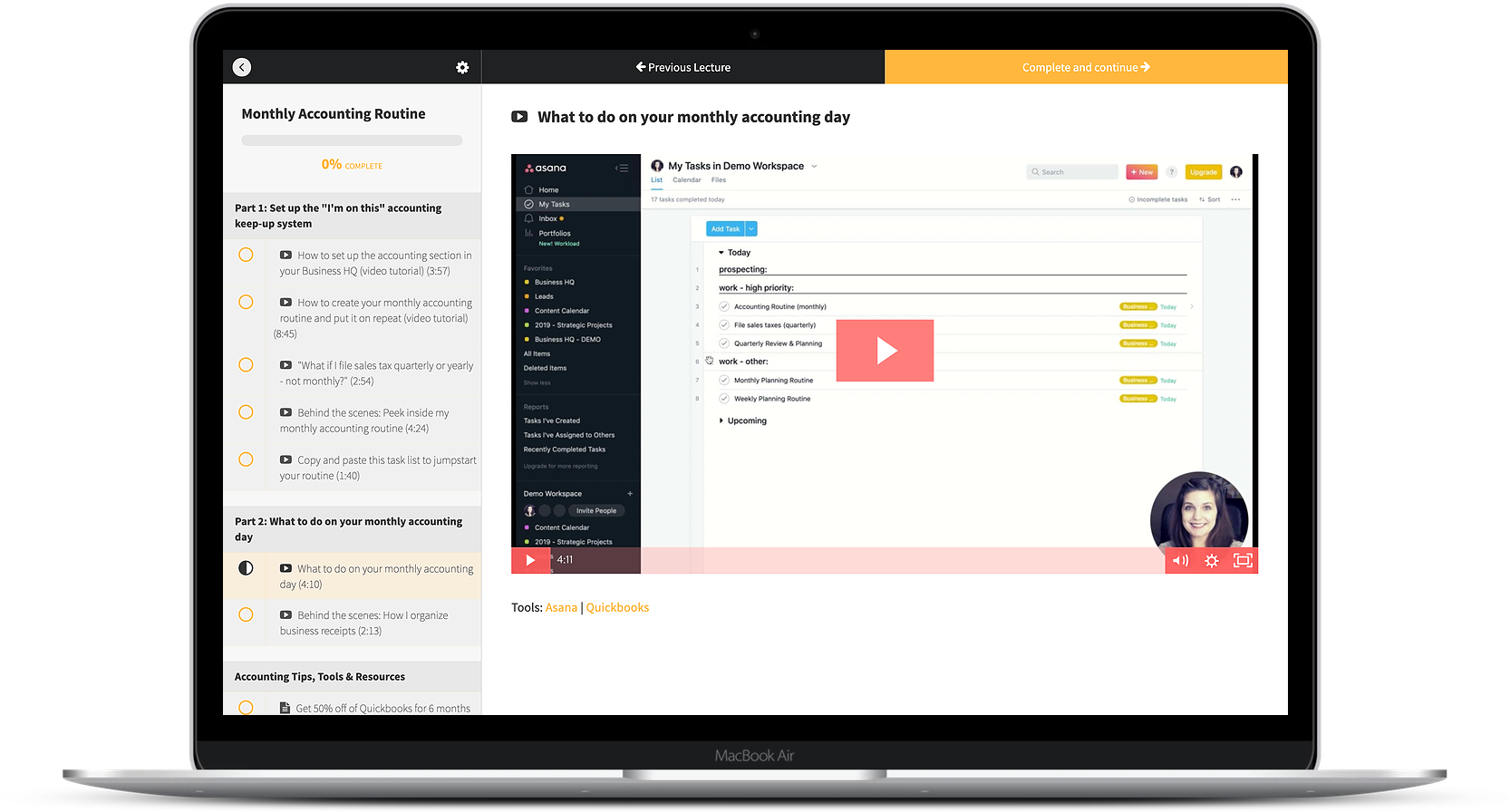 The Monthly Accounting Routine is a mini-system video training that shows you how to turn your regular accounting responsibilities into a streamlined and partially automated system in Asana.
It's perfect for small businesses without in-house accounting departments — like freelancers, coaches, consultants, and course creators.
This step-by-step training features 7 tutorial videos (taught using Asana) averaging 4 minutes in length, a copy-and-paste to-do list, and software and financial resource recommendations.
Course Curriculum
Start here
Available in days
days after you enroll
Part 2: What to do on your monthly accounting day
Available in days
days after you enroll
Note! This is a systems workshop,
not a "how to do accounting" resource.
In the Monthly Accounting Routine mini-system training, you learn how to set up a smart system (in Asana) to stay on top of your regular accounting tasks.
This workshop does not cover the ins-and-outs of how to do accounting for your business. For accounting how-tos help, please consult a certified accountant in your state/country or other trusted accounting resources.
Frequently Asked Questions
When do I get access to the Monthly Accounting Routine?
Immediately! After finalizing your payment, you'll be redirected to the training videos.
How much time do I need to work through this training?
You need about 1-1.5 hours. Yep, you can watch the videos and set up your basic system in about 60-90 minutes.
Can I use this if I already outsource some stuff to an accountant?
Yes, absolutely! You'll learn how to set up a system to streamline and scheduled all of your regular to-dos regardless of whether you're doing the accounting yourself or working with a CPA. That said, if you employ an in-house accounting department, this training is not for you.
Will I learn how to DIY my accounting?
Nope. This is not a "learn to do accounting" type of workshop. (For that kind of help, we recommend you consult a certified accountant or other trusted accounting resource.) Instead, this training program teaches you how to set up a system to track and manage your regular accounting responsibilities. The best part is: It can be customized to work with any accounting processes you already use!
With the Monthly Accounting Routine mini-system,
make better financial decisions all year long
without relying on self-made promises or willpower to keep you on track.
Your Instructor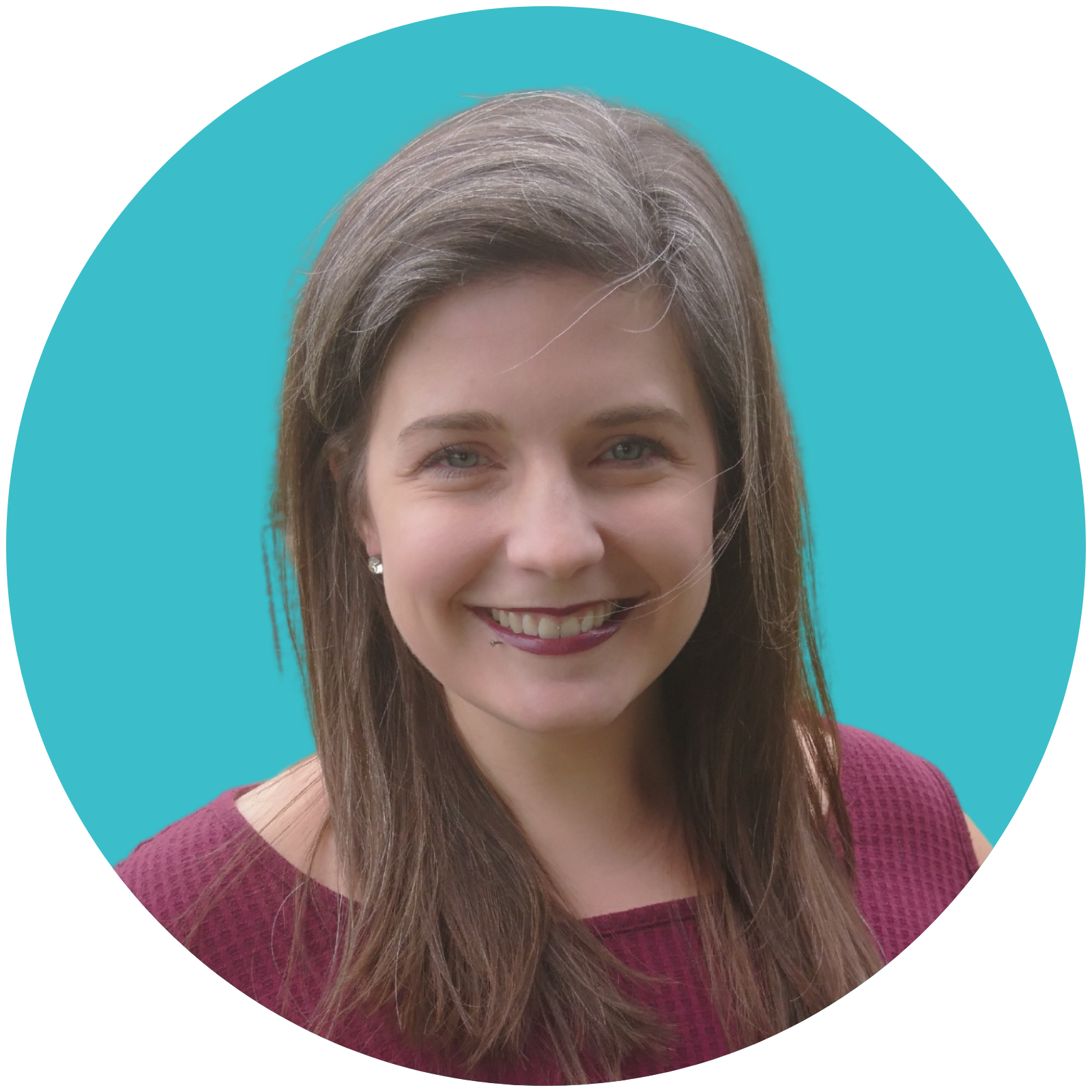 Paige Swaffer is a certified funnel strategist, certified conversion copywriter, and founder of The Impact Copywriter. She helps businesses turn more strangers into subscribers, signups, and sales — ultimately, unlocking new levels of business growth. Paige has helped CEOs and entrepreneurs all over the world boost their sales with strategic sales funnels and conversion copywriting.